Sports industry trends: a sports announcer app or new challenges?
From 2016 to 2020,  the fitness and health applications market was growing rapidly: from year to year, the number of downloads increased steadily by 22%. However, a large share of growth and downloads occurred in EMEA countries (Europe, Middle East, and Africa). Every second app in ads is a sports announcer app or Betting app. Is it a real trend of 2020-2021?
What's going on now?
The market situation is unstable and changes dramatically every year: some companies grow at a rate of up to 300% per year, while others barely hold their positions. Due to the volatility of the fitness and health applications market, companies are resorting to tricks to gain market share and maintain their positions.
When asked which technologies will have the greatest impact on the sports industry in the next 12 months, 78% chose fan attraction technologies such as live broadcast, announcers, eSports, and content platforms, compared to technologies related to athletes' performance (16%) and stadium experience (6%). Today, we in TAGSoft has identified several trends that help to attract and keep users' attention.
 1. Fitness applications as a social network
The opportunity to share results with loved ones, friends and colleagues becomes a source of inspiration for those who exercise regularly and pay attention to good nutrition. This principle was the basis for many fitness applications, such as Nike Run Club and Strava. The latest application brings people together in geolocation – you can compete with other participants in the race on the courses in your area, comment on each other's achievements.
The most misunderstood thing among investors is that only famous sports like running or fitness could be popular as social networks. Proof that it's not true is WodProof. WodProof is a native iOS/Android application that helps athletes record competitive videos with chronometry to compete in CrossFit competitions. For today, the application has been installed more than 200 000 times and has 130 000+ active users of the social network. It is supported by CrossFit Superstars such as Patrick Vellner, Tia-Clair Toomey, Thuri Helgadottir, and others. ( You could check our WodProof by the link)
2. Fitness applications as "Challenge"
The format of the "Challenge" is becoming more and more popular – each participant tries to get to the top and win a prize. One of the first "Challenge" was used by the creators of Endomondo (applications for running, cycling and walking) – they offered the audience to compete in literally everything: who lost more weight in a month, ran the longest distance. This idea was also picked up by other developers. 
3. Fitness applications turn into games
Apps that stylized for games are very popular. Among them is Walkr, which was conceived as a cosmic odyssey: to get access to new worlds and missions, you need to walk as much as possible. Zombies, Run! turned a banal run into an escape from a zombie army. The pact is like a betting company: users bet on whether they reach the gym and lose money if they don't keep their promise. And Charity Miles donates money to charities depending on how many kilometers the users have walked, ran, or bicycle ridden.
4. There are virtual helpers in fitness applications.
So-called chat rooms ask the right questions, help to understand the causes of illness, and offer a solution. For example, the Ada app asks the user personalized questions: How are you feeling? How long has the sickness been there? Do you have a temperature? – then assesses the answers and makes the most likely diagnosis. Through the application, you can even consult with a doctor.
5. Fitness applications use the latest technology
With these applications, your smartphone can become a real medical station. The artificial intelligence of the Fitbod application analyses each user's training, resulting in an individual plan that takes into account the user's general state, preferences, strengths and weaknesses. The Lose it! app will make it easier for those who meticulously keep a food diary. At the heart of Lose it! – a neural network that determines the caloric value of food from a photo. Simply select the type of dish from the general list (breakfast, lunch, snack, or dinner) and take a picture.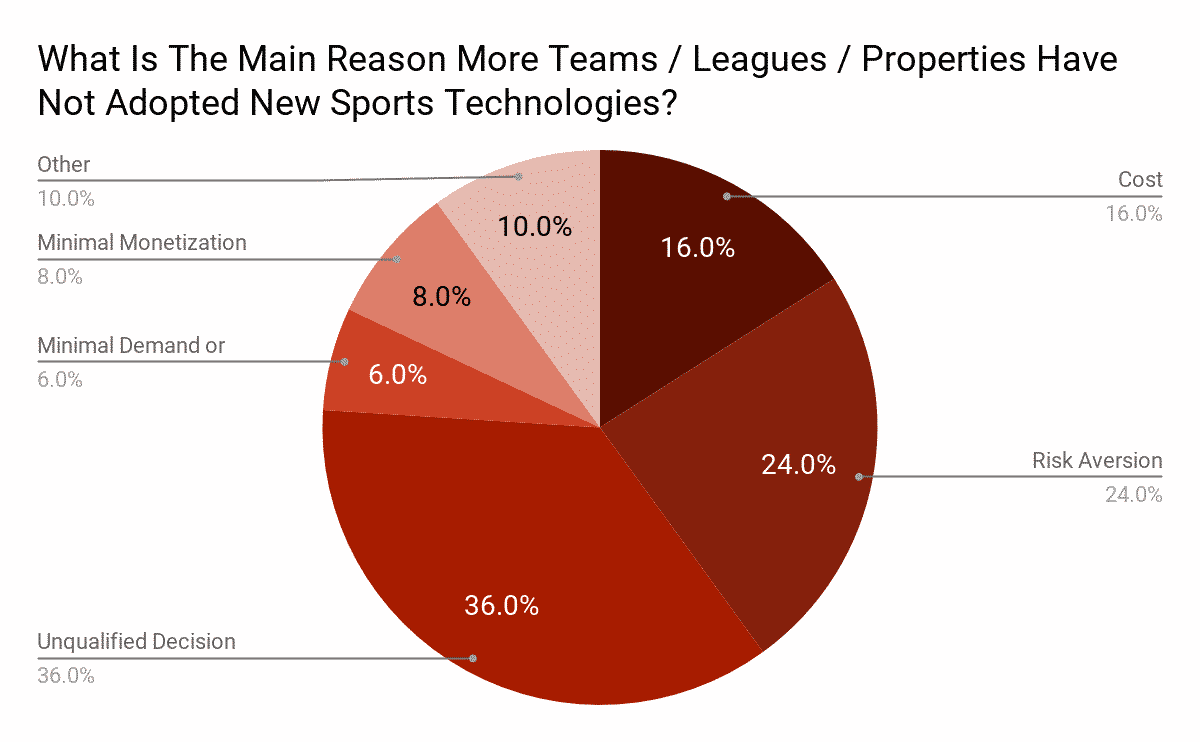 Respondents identified several factors inhibiting the development of sports technology. So, three main reasons are the low qualification of decision-makers, reluctance to take risks, and the cost of the final product.
Summary:
Sports tech is going to continue to grow and become more relevant because technology is the future of sports. Technology is constantly evolving and fueling more solutions in sports. Solutions that change how we practice and compete. As augmented and virtual reality tech improves, we see the possibility of creating entirely new sports or — who knows — removing the need for a playing field, or automating announcing of sports events for example. It's a very exciting market to be in right now!