Post pandemic retail trends or ecommerce trends that you should expect..
Closing a business, changing focus, switching to online, and other unexpected business changes that the owners themselves are talking about. We conducted our independent research and found several important retail insights into the new post-pandemic eCommerce trends, that you should know in 2021. 
Conscious consumption, healthy lifestyle, growing interest in "alternative" foods in different categories – at the beginning of the year this was the main retail trend for 2020. But at the beginning of March 2020, just in a few days, they came to the background: an unprecedented transformation of lifestyle began to define new formats and ways of interaction between consumers, retailers, and brands. 
By the end of March and the beginning of April, the agiotage demand in retail has already fallen: stocks have been made and new measures to combat the coronavirus don't limit the access of customers to grocery stores with a wide range of products. With the onset of autumn, it became clear that the second wave of COVID-19 can't be avoided and the issue of adapting the business to new realities has become particularly acute. Many of those who survived after the first wave of the crisis didn't reach the rescue sales and for those who survived – it is time to answer the question – what will happen to the retail market after quarantine? How to start preparing for a new post-coronavirus life and is there any alternative for non e-Commerce companies?
There was no such situation in economic history – countries didn't introduce lockdowns at the same time around the world, there was no global doom of entire industries (such as tourism or hotel business), so it is necessary to take measures based on data because the life experience is simply absent. Research and data analysis are doing the job. 
Research is often based on a monotonous focus group, and their data is therefore unrepresentative. We have paid attention to this feature and conducted research that involved different groups of acquirers related to online and offline retailing directly, consulting, innovation, eCommerce, and areas indirectly related to retailing. Groups of respondents associated with online and offline retailing are approximately equal, which means that the results are objective towards the advantage of online retailing.
Among the respondents there are such business owners as:
37,9% – online retailers and e-Commerce companies;

27,7% – food retailers, restaurant owners;

24,1% – offline retailers;

6,9% – startups;

3,4% – retail consultant.
Almost 50% of the interrogated felt the negative influence of the crisis on their business. Half of them actively reduced expenses in their stores and staff. Personnel reduction is one of the first measures that businesses resort to after a sharp drop in demand and income. The main task of the business in the first place is to optimize expenses during the crisis period and to push back as far as possible. Retail before the crisis in 2020 showed stable growth, as a result of which many companies had staff expansion and fixed maintenance costs exceeded the norm, but because of the growth – didn't seem visible.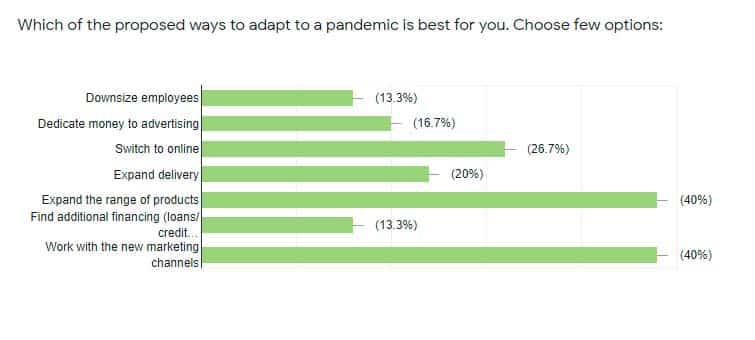 10% One-fifth of them have closed their business or are on the verge of closing it. What could it mean? If these individual businesses did not expect so long a crisis period and ran out of funds for maintenance and their six-month airbags in the face of a long-term crisis – it wasn't enough. The second option is that these companies didn't reduce their costs and their staff, so they quickly used up the fund. Conclusion – at the moment of the crisis – is to be ready for the crisis to last at least 12 months and to build your exit strategy with pessimistic expectations of this duration. Adjusted for retailers – you should expect that accounts receivable may increase significantly and some customers may not pay you at all. Therefore, the best way could be to convert the calculation to prepayments or reduce the size of transactions (for example, split it to several times per month instead of once a month). But the news is not only bad. 
40% of respondents had positive changes in the business.
40% of respondents had positive changes in the business. Perhaps these retailers are flexible in responding to these challenges in a flexible way or have quickly adapted their operations and business decision making to the new crisis reality. There appeared additional demand from the customer's side and new directions for development. And 6,7% of them even hired new employees. We link this to the right tactics and the adoption of new trends. So let's check the reasons for it.
Which of the problems is the most important problem for you?
Our respondents determine 5 next problems as the most relevant for their situation. 
Logistic (purchase/ delivery)

Searching for additional investment

Long market response

Small online experience

Lack of online representation 

and

consumers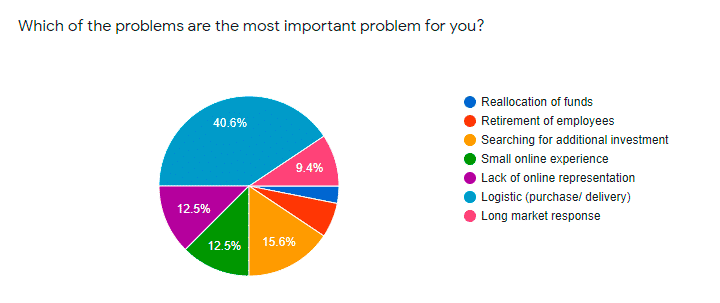 After making the research, we identified the following problem solutions:
 Logistic
The first position gets more than 40% of answers and it was expectable as lockdown hits first of all for this part of business operations. But what was interesting – one of the reasons for it is huge supply delays( up to 45 days). So the time gap between consumers' requests and moments when a business can satisfy their needs is huge! In this case, the best way is to analyze – do your competitors have the same issues or they already have the decision that you also need to find. 
Today, the main goal is to ensure the safety of customers and employees. Two trends emerge from it. These are the increasing demand for safe delivery (subject to hygienic standards) to the entrance/apartment, as well as an increasing role of contactless payments.  In terms of last-mile delivery, the implementation of new routing algorithms should be accelerated. In terms of payments, expand the number of payment providers on the site.
Searching for additional investment
 The second point is lack of additional investment. The ground for this problem is unjustified expenses on rent and salaries during the prohibitions of the authorities on the operation of the business. During the crisis, the main management document of the business owner is the cash flow forecast. It is important to divide all expenses of the company by categories: A – vital for the company's existence, B – secondary importance, C – auxiliary, improving the comfort of work.
If financial forecasts leave much to be desired, reduce expenses starting from category C. None of us wants to cut back and are ready to fight for position and market share. However, statistics show that in a crisis contraction is inevitable for many companies.
If you want to keep the team, you need to have a cutting plan at hand, because delaying in this matter may cost you the company at some point.
Long market response
Our research showed that 40% of the questioned CEOs consider the expansion of the product mesh as a way out of the situation. 20% will redesign concepts to take into account trends in hygiene and health and 5% will launch products in new categories to use the emerging potential. It could increase your incomes as it makes it possible to buy more required products in the same store and save time on placing orders in different vendors' shops. But it is not the silver bullet – you should also think about how to help customers to make that decision
The dramatic changes in retail trends will affect how consumers expect everything from brand customer service, purchase options, and flexible delivery needs. The most successful brands will be those that adapt to the pandemic shifts that have consistently changed the retail landscape. It is necessary to "catch the moment" to be the first to make decisions. After all, what determines the success of companies in the market at this time?
Our conclusion: It's time to review your operating model and conduct a series of option analyses to determine which products are in demand and should be added, which services are available, and what your client needs.
Small online experience

Results show that one in five consumers won't buy clothes offline again, especially among the older generation, who may have resisted the use of technology, turned to online shopping for the first time, and are likely not to return to stores again.
"Adopt technologies that will not only save your business today – but will also let you grow it tomorrow."
As more and more people continue to shop online instead of buying in offline stores, which they were forced to start and which proved to be easy, everyday goods will continue to be sold online. Those retailers who have customers will have to decide how to keep them. And those who have lost customers will have to decide how to get them back. (Read more about how to encourage a customer to buy your product online.
Lack of online representation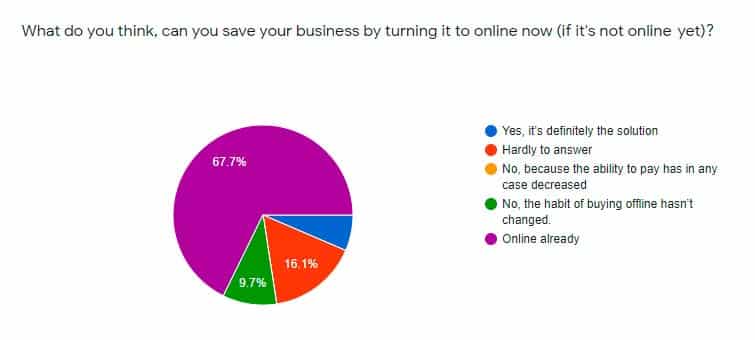 Interesting fact: the majority of respondents who haven't any growth in business and have incurred losses, don't see the sense in going online. But the research data prove a clear advantage. That's why our third retail trend after the quarantine is to bring the business online using new technologies. 
" An increase in use has already been observed in China and Italy," Informa Tech reports: "Demand for Internet services provided by such brands as Netflix and Disney will increase by 12%".
Instead of increasing product prices, these companies provide free access and add new online technologies to attract as many new customers as possible. They understand that if there is a crisis in the world, most of the existing customers will give up entertainment content to save money, and the only way to do so is to attract as many new users as possible. 
"Customers expect Multichannel and we saw the online operation as complementary to the store operation. For example we had a very successful free click and collect operation which helped drive footfall to our 530 stores. Our online ATV was 3 times higher than our store ATV."
The best option for business owners is to rethink the customer service and individual approach to each of them in time, to focus on new retail trends experiences, and current technologies. The technology of machine learning will be used more widely to offer support in online chat, similar to the tool for employees of Walmart Ask Sam. Virtual reality will help to present people with what furniture in the house may look like, or download measurements and virtually try on clothes.
Сonclusion. What new retail trends will appear in 2021?
The delivery will guarantee increase, so we expect an increase in customer demand for online logistics solutions; 

Contactless payment and everything that can minimize contacts with consumers during delivery;

Analytical market research and financial optimization;

Mobile applications and eCommerce websites have acquired the status of must-have for business and moved real stores;

Retailers will continue to experiment with interactive product preview capabilities and virtual fitting rooms that is also the new eCommerce trend too;

A powerful evolutionary leap online will bear fruit and dramatically change our reality, which will be much more technologically advanced after the pandemic.